Sauder Village
Sauder Village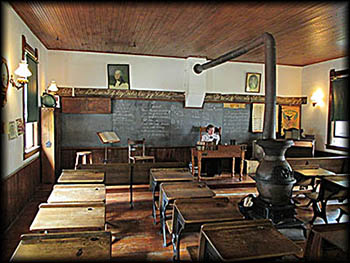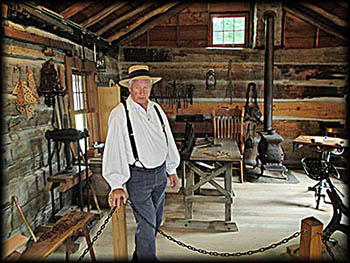 Cabinet Maker Shop
(and Cabinet Maker)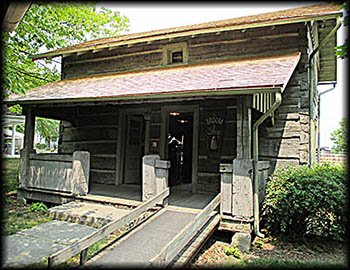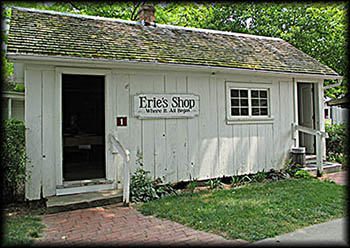 This is the original
Sauder Furniture shop.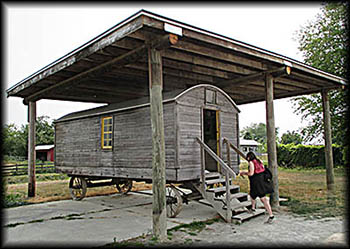 Last winter I went to Wauseon, Ohio, for the first time in my life to visit my aunt and uncle at their new house. Shortly after getting off the Ohio Turnpike I saw a sign pointing to Sauder Village and something in my memory clicked. First, I suddenly remembered the existence of the place, and, second, I thought it had a restaurant someone once recommended to me. I asked my aunt about and she said, yes, Sauder did run something called the Barn Restaurant. I suggested we eat there, and we did.
The restaurant, at which we had a superb lunch from its buffet, consists of just one of many buildings that make up the Sauder Village complex. Other buildings include the Sauder Heritage Inn, a Sauder outlet store, the Doughbox Bakery, and the Welcome Center. After lunch we wandered over to this last in which we found a gift shop and one room museum giving you an overview of Sauder Furniture's history. From the Welcome Center I could see the village beyond. Although closed for the season, it peaked my interest enough that I decided to return to check it out.
The view of the village out the center's window consisted of nine buildings in a half circle. As my traveling companions and I headed up to it, I assured them it would take no more than two hours to see the whole thing. Upon arrival I suffered from sticker shock. It cost $16 to get for adults, $14 for Seniors and those with AAA memberships. (Students ages 6-16 get in for $10, and children under 5 for free. The village offers even better deals for veterans and their families.) Well, I hadn't just driven for an hour and a half just to turn around, so I reluctantly forked over the money and went in.
Someone told us to follow the buildings by their numbers, so we began with number 1, Erie's Farm Shop, in which we met our first costumed interpreter. Having visited countless historical places with such people over the years, I can safety say their knowledge often varies from person to person, and, in some of the smaller places, that doesn't go very far. Here the interpreter pelted us with the history of how Sauder Furniture started, and if you asked her questions, she didn't blink an eye before answering. The village interpreters, I quickly discovered, must go through extensive training because they all knew their stuff, and knew it well.

After wandering through a few buildings, it soon became apparent why we paid so much to get in: the village's size looked deceptively small when you enter, but it in fact sprawls over a large area and contains no less than forty historical buildings to visit. After finishing our lunch, we didn't enter the village until something like 1:30 in the afternoon, and it quickly became apparent we would have to stay more than the planned two hours.
Almost all the buildings are authentic to the period they represent, and most came from the immediate area. The time period runs from the 1840s to about 1910, with the majority of the original buildings representing the 1880s and the outer ones the 1840s. When the village opened in 1976, it contained the nine buildings I saw in the half circle when we first walked in, and has since expanded. Some of the buildings have air conditioning and others don't, so if you go on a hot day and get to feeling the ill effects of the heat, you will readily find a cool refuge.
I enjoy visiting historical sites in part because I love seeing real artifacts and historical buildings, and I hope to learn new things. Here I certainly did. At Doctor McGuffin's office, for example, the interpreter showed us intimidating looking instrument doctors used to extract tonsils, and I picked up a list of 1887 rules floor nurses for a hospital had to follow. Among them: "Graduate nurses in good standing will be given an evening off each week for courting purposes, or two evenings a week if you go regularly to church" and "Any nurse who smokes, uses liquor in any form, gets her hair done at a beauty shop, or frequents dance halls will give the director of nurses good reason to suspect her worth, intentions, and integrity." As if this doesn't sound harsh enough, it took a nurse in good standing five years to earn a mere nickel raise per week.
At first we tried to follow the building numbers in order, but after a while we gave up and just wandered about at random. Our travels took us past an unusual-looking wagons one of my traveling companions thought surely must have belonged to gypsies. Well, I retorted, since the Sauder family came from good Mennonite stock, I doubted it. We took a closer look and an information sign informed us we both had it somewhat right. The wagon belonged to Hungarian migrant workers, who used this 1923-built means of transport and living space while they worked the sugar beet fields.
The largest building in the village houses a museum and quilt shop. Seeing the word "quilt" on its sign, I presumed it houses a museum about quilt making and so decided to put this off until the end of the day, and then only if we had time. Never did I regret a decision more. We entered fifteen minutes before closing time and immediately realized a person could spend hours here. The majority of the museum contains historical pieces placed together by theme. The music section, for example, had something like fourteen organs and pianos in addition to other instruments in display cases. Like antique cars? You'll find them here. This place has everything include a row of kitchen sinks. With time limited, I just walked about, drawn to this item or that. I mistook one of the museum's larger items for a tractor because of its design and immense size. When I read its information sign, I learned it was a Baker Road Roller, its purpose made clear by its name.
We needed more time to see this place's wonders, but unfortunately this we didn't have. Had we but known just what we would have found here, we would've come much sooner. So if you decide to visit, plan on staying the entire day. In the summer the village hours run from 10 to 5 on all days except Sunday, which goes just from noon to four. For those with children, don't worry about them getting bored if you decide to spend a full six hours here. Many of the interpreters talk about stuff that will appeal to a younger audience. The tinsmith, for example, gave them a long horn (it probably has a proper name, but I don't know what) and let people blow it. If the children still insist they've gotten bored, don't despair. You can, if all else fails, take them to the Little Pioneers Homestead, a place just for children and which I didn't personally visit since I have none and had none with me. You can also amuse them with a horse and buggy ride or a ride on the train that stretches along the village's outside northern and eastern borders.
What, you say, happens when our children insist they are hungry and need nutrients or else? Again, don't worry. For your main meal, just go to the excellent Barn Restaurant. While it's outside the village proper, when you pay to get in you receive a sticker pass so you can get back in. The Welcome Center has a little café, and inside the village you will find Sweep Shoppe and Ice Cream Parlor. Lauber's General Store also has some food one can snack upon. Finally, for those who came a long way to see the place, you can stay overnight in the Sauder Heritage Inn, although I wouldn't recommend it. You usually pay through the nose for onsite accommodations, so I'd find something elsewhere.
Over the years I've visited a large number of historical reconstructions. The best ones, of course, still have mostly authentic structures and well-trained historical interpreters, some of whom, depending on the place, even play a character and stay in a specific time period. Of these, I consider Williamsburg the one to which all others must strive to compare. And a few have, including the Moravian Village (officially called the Old Salem Museums and Gardens in Salem-Winston, NC, Mystic Seaport in Mystic, CT. I now happily place Sauder Village among this elite group and suggest lovers of history visit if they can.
🕜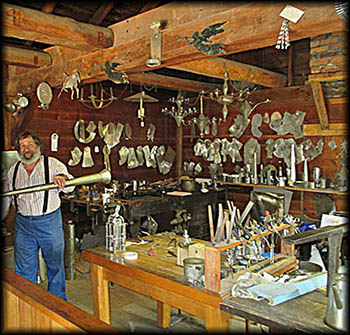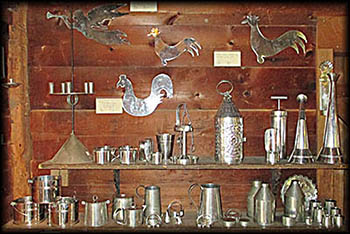 Some Items Made by the Tinsmith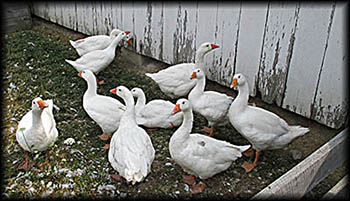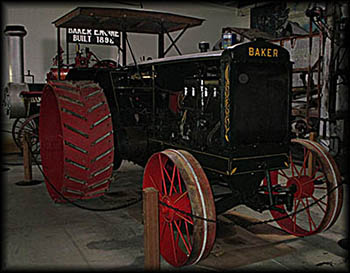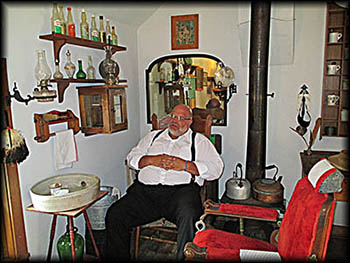 Barbershop with the Barber Himself