Jefferson Depot Village
Jefferson Depot Village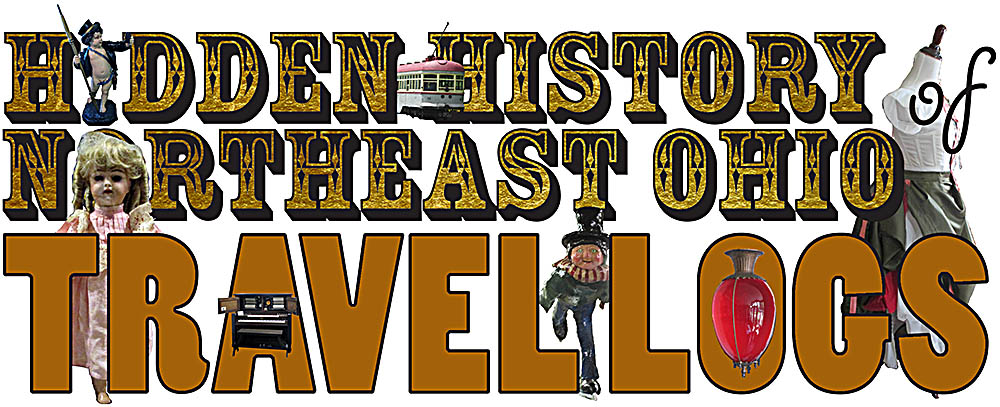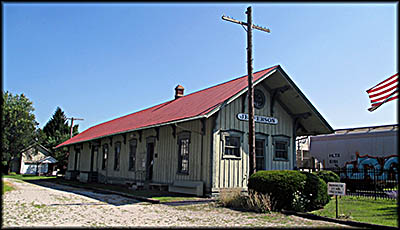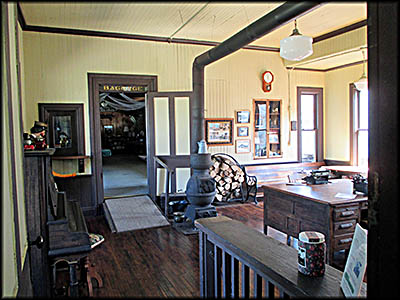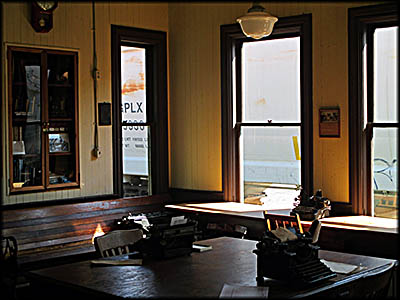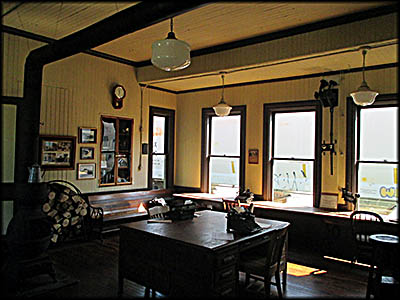 Inside the Depot Building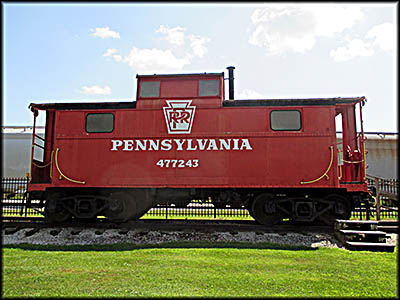 Caboose Outside the Depot
Jefferson Depot Village was not what I expected. Based on its name I thought its focus would be about a railroad station in a small village, but it turned out to have a wide variety of historical structures that tell a much broader story. The depot itself, quite impressive for one constructed for such a small community, once belonged to the Lake Shore & Michigan Southern Railroad. A history of nearly all American railroads is one of consolidations that, if charted out, would look like an upside-down family tree, and this one is no exception. It traces its roots back to eight different railroads that merged into four—Michigan Southern & Northern Indiana, Cleveland & Toledo, Cleveland, Painesville & Ashtabula, and the Buffalo & Erie Railroads—that in turn consolidated into the Lake Shore system in 1869.
Jefferson's depot was built in 1872. Divided into three main rooms, our tour guide brought us first to the waiting room for ladies and children that also had two ticket windows. Next was an office, or communications room, that included an out of place piano. The final and largest room served as the baggage area and men's waiting room. Here my traveling companions and I were warned to be careful because a baggage scale makes the floor uneven. On one of the walls was a painting of the Great Ashtabula Train Disaster of 1876. This terrible event is cover in my book Hidden History of Northeast Ohio in the chapter about Ashtabula County.
Jefferson Depot has on its grounds one that belonged to the Methodist Episcopalian Church, a denomination that has since became part of the United Methodist Church. Built by William H. Fay for $1,000, the church officially opened on July 22, 1848. Within thirty years the congregation grew too big to fit into this modest structure, so in July 1882 it moved into a larger brick building. By 1987 the 1848 building had fallen into disrepair and its owner, CountryMark Stores, wanted it destroyed or removed. It had no floor, its inside had become rotten, much of its roof and rafters had gone, and many of its windows and doors were missing. Jefferson Depot rescued it and has since done marvelous restoration work.
At first this church's congregation didn't have a dedicated minister but rather had to wait until a circuit riding one showed up. That he was a Methodist was no accident. That religion pioneered sending ministers into the frontier to turn it from godless to a godly whether the settlers wanted it or not. And most didn't. Reverend Samuel J. Mills, the father of American missions, complained about the wickedness of settlers in the Northwest Territory. He spent one Sunday in a Kentucky town trying to gather a crowd from the two to three thousand inhabitants to listen to his sermon and the Word of God, but none came. A Baptist minister roaming Ohio complained that some places he visited had not been preached to "for ten or fifteen years."
It was the Methodists in America who developed the idea of the circuit riding preacher. This strategy helped spread Methodism extensively through the Northwest Territory and addressed a shortage of ministers by allowing a single person to tend to a wide area of people. These preachers didn't do it for the money. Peter Cartwright was an early circuit rider who recalled being paid $40 for his work in 1806 and being glad he got that much. Some of his fellow riders received half this. Circuit preachers tended to be young and unmarried and some weren't even ordained. Preachers such as Cartwright often went hungry.
Cartwright was ordained a deacon in 1806 and in that year assigned to the Marietta Circuit, which stretched about 300 miles in length and required him to cross the Ohio River four times. Worse, those who had settled in his circuit were Yankees, a breed he had never before encountered. Having been born in Virginia and raised in Kentucky, he had heard little good about these foreign creatures, who supposedly ate pumpkins, fatty meat, large quantities of molasses, and drank bohea tea, a low-quality brew the American colonists had come to love. Yankees, he had heard, did not like loud preachers and made fun of backwoods ones such as himself. He tried to get the bishop to change his route, but to avail.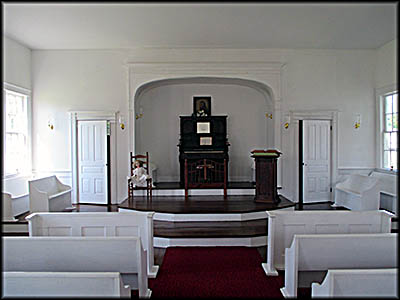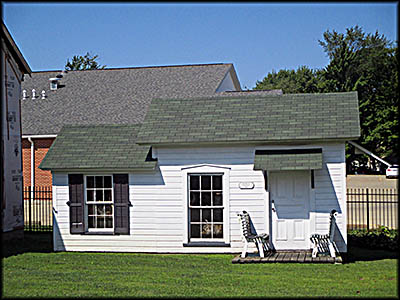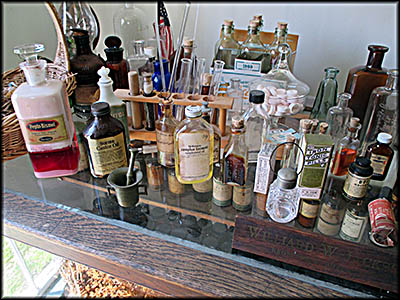 The year did not go well. His horse went blind, it chewed up its bridle reins a good dozen times, and its saddle wore out. His clothes became nothing but patches, prompting him to travel 500 miles to his home in Kentucky to get some new ones. The trouble was when he began the journey, he had a mere seventy-five cents on him, and while that got you a lot in 1806, it was not sufficient for this trip. His funds did increase when a widow he met along the way gave him a dollar, but by the time he reached the Ohio River, he couldn't pay the twenty give cents for the ferry ride across.
On the other side in Kentucky was Maysville, and there he knew someone from whom he could borrow the ferry fee, so he got the ferryman to let him cross. On the other side he happened upon Colonel Moses Shelby (Kentucky being well known for its surplus of honorary colonels) who was also the state governor's brother and, more importantly, a friend of Cartwright's father. Shelby gave Cartwright three dollars, a bill of the road (a type of credit), and a letter of introduction good until he reached the area of Pilot Knobb. Past here he ran out of money again and bartered with an old watch and some books to stay at an inn.
He asked the innkeeper if he could pray, the idea being he would entice this man and his family to join in. The innkeeper brought him to a back bedroom and told him he could pray all he wanted there, then left. So loud was Cartwright saying his prayers that he upset the family and caused the innkeeper's wife to say, "He is crazy, and will kill us all this night. Go, husband, and see what is the matter." Cartwright pointed out he was given permission to pray. "But," the innkeeper replied, "we didn't expect you to be so loud."
In the morning the innkeeper refused any payment and even fed Cartwright breakfast before he left. The next day he reached his parent's house and there got his new clothes. He stayed a few weeks. He departed with a new horse complete with bridle and saddle plus $40 in cash. He would not return home for another three years. Such was the life of a circuit rider.
So harsh was their lives they were known to die prematurely. In the late eighteenth and early nineteenth century few roads or bridges existed, and, lacking the latter, these men had to ford rivers and streams, a dangerous thing to do during high water or in cold weather. Circuits, which could extend for hundreds of miles, were determined by districts drawn up by the elders. Most preachers rode on horses and it took about six weeks of nearly uninterrupted travel to complete a circuit. The aforementioned elders also took to the road to carry out the tasks only an ordained minister could do like performing baptisms.
At the top of the ministry were the bishops, or superintendents, who also traveled, and their rank did nothing to alleviate the many difficulties they faced while in the wilderness. Sometime in the early nineteenth century, Bishop William McKendree was plagued by flies and bad weather during his trek through West Virginia, Tennessee, and Illinois to reach Big Spring, Missouri. Most of the fifteen hundred miles he crossed was virgin wilderness that lacked ferries, bridges, or roads, and he often as not slept under the sky. Small wonder that he fell sick and had to stop to recuperate.
Jefferson Depot's low paid teacher, in addition to his or her regular duties, had the unwelcome job of cleaning the outhouse. Other tasks might include cleaning the chimney and filling lamps. Melvin Mack said that during his time as a one-room schoolhouse teacher, he had to tend the fire in the coal stove and get a bucket of water from a nearby farm. For many years a list of one-room schoolhouse teacher's duties and expected behavior has made the rounds online as well as appearing in print. Supposedly from 1872, it has dubious origins and is probably a modern forgery. Despite that, it's fairly accurate. Female teachers were not allowed to marry. Even as late as 1938 this was still the case. As a teacher at a one-room schoolhouse in Pleasant Valley in Springfield Township, Pennsylvania, Mary Strock wasn't allowed to be seen in a hotel, had to do volunteer work at a church, and couldn't smoke.
Teachers were also forbidden to frequent pool halls, public houses, and drink alcohol. Male teachers were not allowed to get shaved in a barbershop. This last seemed such an odd proscription, I decided to investigate further to see why it might have been enacted. In one of the rare successes of the nineteenth century for African-Americans, black barbers were far more successful than their white counterparts. From the 1820s until the about the second decade of the twentieth century, they dominated the market. Some even established lavish parlors in which white men could socialize. Their most lucrative and frequent task was giving a shave, the very thing male teachers were forbidden to get from a barber. In nineteenth century America, because the majority of barbers were black and most teachers white, communities across the United States didn't want their school instructors to be seen going to a black barber.
Teachers could go to a general store, an example of which can be found at this museum. Our tour guide said theirs is set up to emulate what it looked like in 1890 and that all the products within could be purchased then. On the shelves I saw Tinker Toys, Peter Pan peanut butter, Hershey's chocolate, Maxwell House coffee, Barnum's Animal Crackers, Cadbury's chocolate, Cracker Jack Nutty Deluxe, and Nestlé chocolate. All but Cadbury and Nestlé are anachronisms. Tinker toys were introduced in 1914, Peter Pan in 1928, Maxwell House in 1892, Hershey in 1894, and Barnum's Animal Crackers in 1902. The most out of place item was Cracker Jack Nutty Deluxe. It hit the shelves in 1992.
The Jonathan Warner Tavern had its own anachronism: batwing doors. It is unlikely any tavern in Ohio with its cold winters would have such a thing. But no matter. Born on December 11, 1782, in Old Saybrook, Connecticut, Warner began life as a farmer, then went to sea on a cruise to the West Indies. In the fall of 1804 he headed to Jefferson on horseback with the idea of starting a farm. In May 1807 he married Nancy Frethy, a native of Massachusetts whose father had come to Jefferson and there became its first justice of peace, postmaster, and merchant. The museum often performs a reenactment of the ceremony, giving visitors a chance to see what an early nineteenth century wedding looked like. Finding the local clay soil too difficult to work with, Warner abandoned farming, and in 1816 opened his tavern. A year earlier he was elected Summit County's register of deeds. He would go on the serve as county treasurer, a state representative, associate judge of the Common Pleas Court, and mayor of Jefferson.
In the late 1700s he and Gideon Leet co-owned the 910-ton merchant brig Matilda, but they lost their vessel when French privateers La Syrene and La Courageuse captured her on April 28, 1799. Taking her to Basse-Terre on the island of Guadeloupe, she and her cargo, valued at $12,356, were sold. At this time America was involved in an unofficial war with France, the so-called Quasi-War. Warner and his partner couldn't bring legal action for restitution in their lifetimes because American law forbade lawsuits against France seeking redress for seizures that occurred before January 20, 1801. When a law reserving this went into effect in January 1885, the administrator of Warner's estate, Andrew Warner, and the administrator of Leet's estate, Charles Cady, filed suit. It went to trial on April 28, 1891. Both estates were awarded $6,178 in damages.
The schoolhouse at Jefferson Depot was built in 1838. The farmers who sent their children here provided the wood or coal to fuel the stove in the winter. During the colder weather students brought in vegetables so the teacher could make the class soup for lunch. Like most one-room schoolhouses, its pupils varied in age and year of schooling, though few made it past the eighth grade or attended all nine months each year because they had to work on their family farms. In some ways the classroom was the same then as it is now. Students learned to read, write, and do math. They sang songs such as "When the Saints Go Marching In" and "I've Been Working on the Railroad," tunes still sung in music classes today. Students also got to play games. Some will be familiar to children today such as potato sack races and jump rope. Games seen far less are playing jacks, marbles, and rolling hoops, this last activity pretty much extinct.
🕜